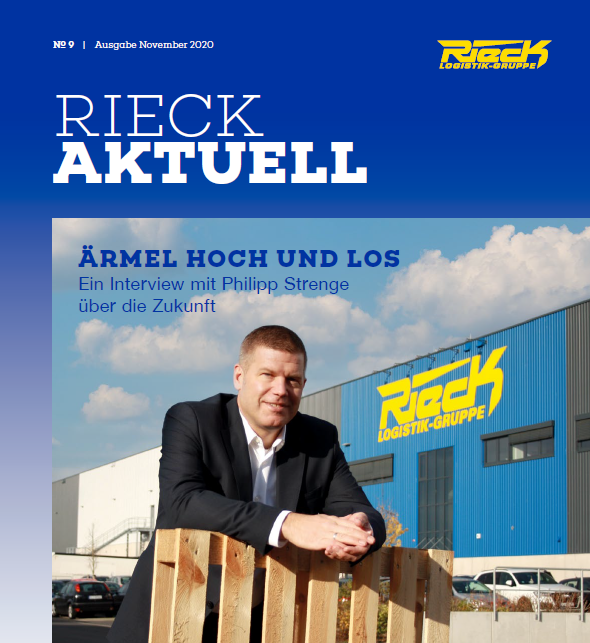 November 2020
Learn what what Philipp Strenge has to say about corporate change at Rieck, how we create an oasis of well-being at home and why our location in Großbeeren has been awarded.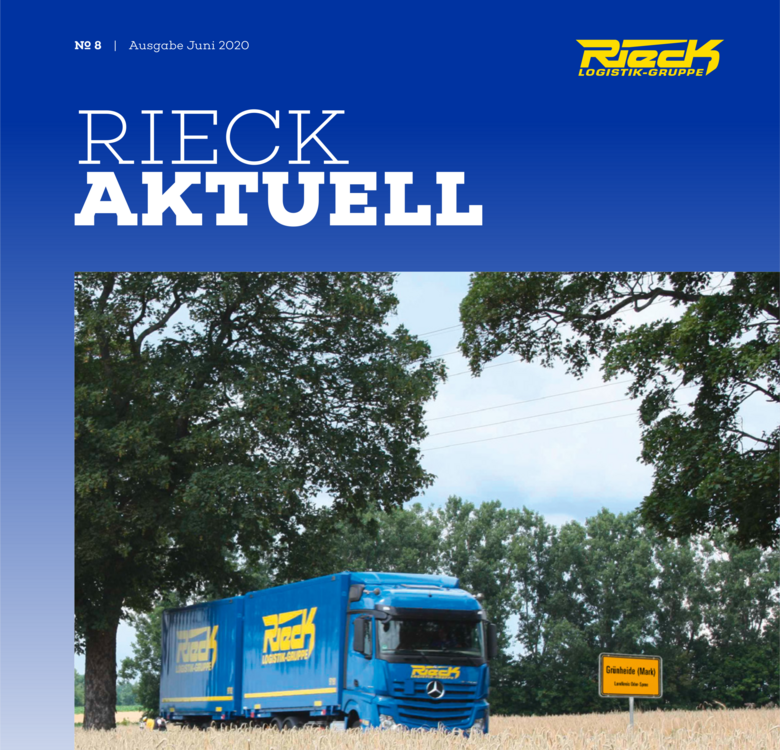 June 2020
Learn why we already have logistics for babies, where we meet customer requirements worldwide and how a woman mixes up the male domain at Rieck.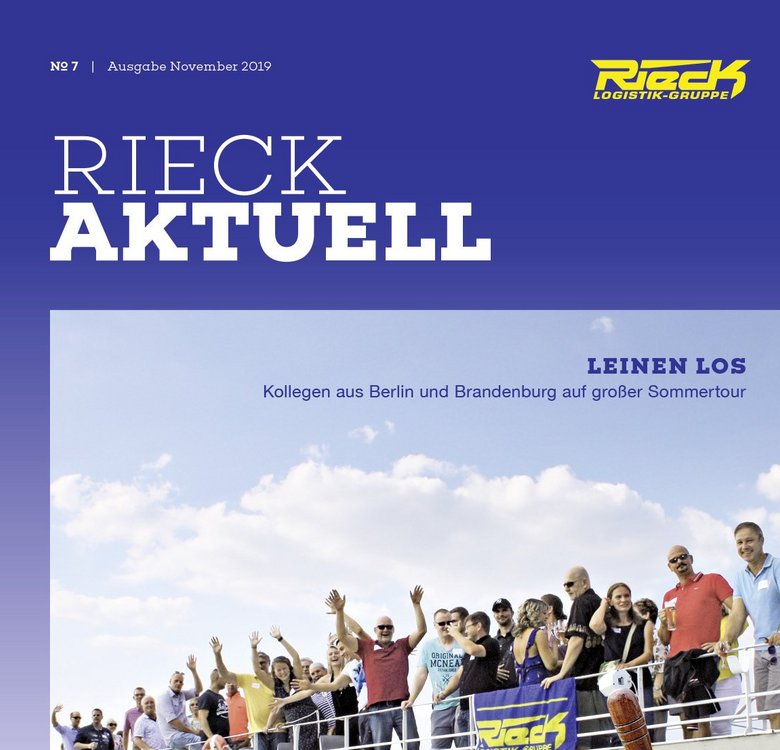 November 2019
Learn how Rieck organizes the transport of defective solar modules, which experiences our trainee gained during his internship in London and who is available for you in the Rieck Fulfillment Solutions customer. service department.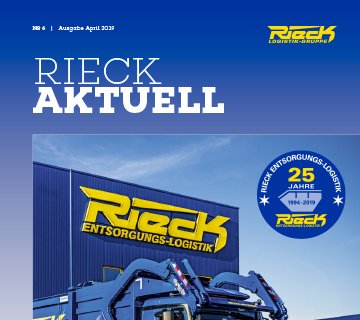 April 2019
Learn what happened in 25 years of disposal logistics, how Rieck transported a helicopter from New Zealand to Germany and what keeps the Rieck marketing team busy.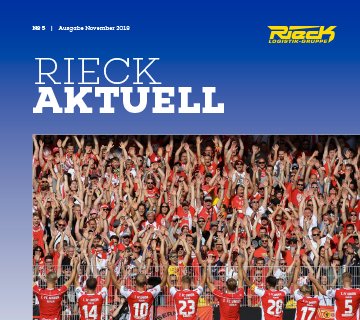 November 2018
Learn how the merchandise of the 1. FC Union Berlin gets to the fans, what Rieck contributes to the fight against polio and what it's like to work in Sri Lanka.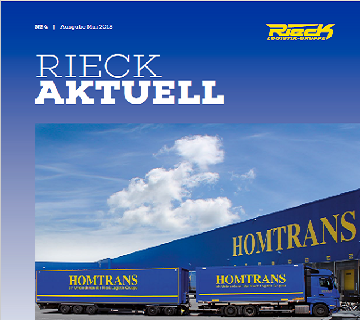 May 2018
Learn what advantages the new HOMTRANS warehouse near Rostock offers to customers, how driving a 25 m long Gigaliner feels like and which special loads the Rieck Sea Air Cargo team transports.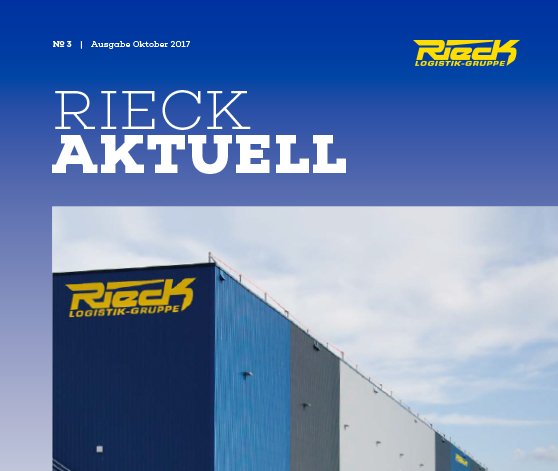 October 2017
L Learn why the new site in Berlin is ideal for employees and logistics, what import-power from Hamburg looks like and and why the Rieck site in Dresden has good reasons to celebrate.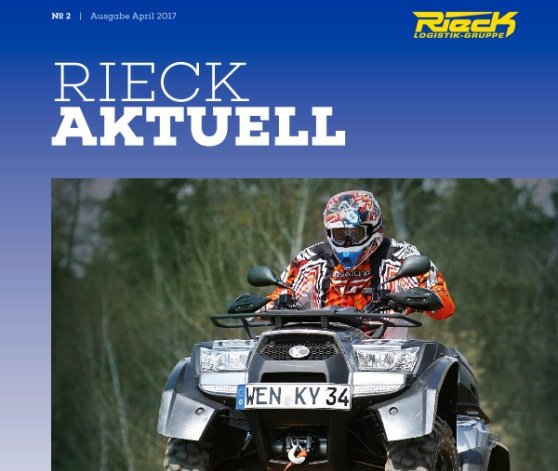 April 2017
Learn how the motorcycle season makes itself felt at Rieck, whats celebrated in Shanghai and how how Rieck cultivates contacts in the United States.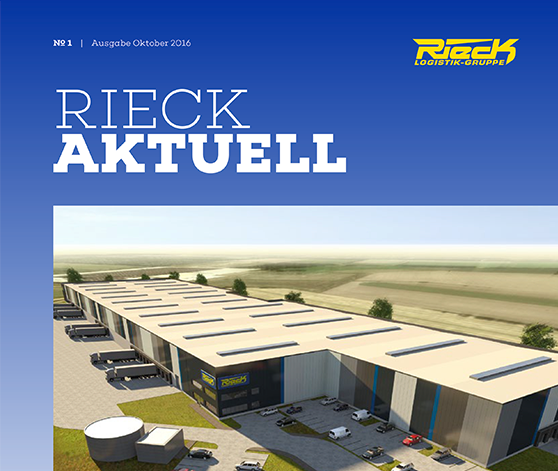 2-2016
Learn how Rieck constructs new logistics sites in Berlin and Hamburg, why Rieck Sea Air Cargo Cargo International celebrates in Berlin and how Rieck transports the Viennese coffeehouse culture to Germany.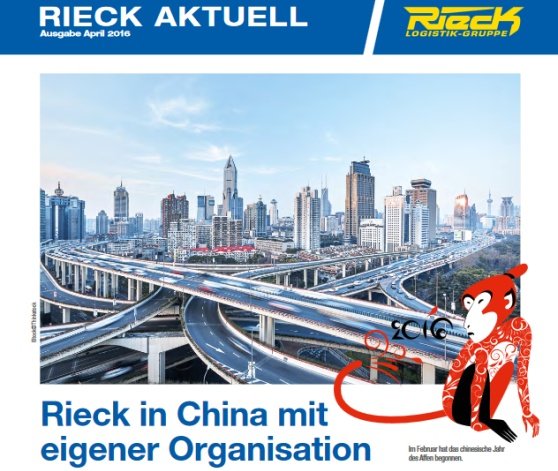 1-2016
Read how Rieck get's started with an own organization in China, why Rieck makes a hotel stay more pleasant and how strong lads support the Rieck Projekt Kontrakt Logistik.
2-2015
Discover how Rieck delivers large goods at the desired date, why BSH counts on Rieck for procurement and why the turnover team is second to none.
1-2015
Read how Rieck shapes the future of forwarding today, why the waste management at Möbel Höffner in Neuss shines and where the Rieck Projekt Kontrakt Logistik implements creative solutions.
2-2014
Learn how REL has been growing for 20 years, which logistics e-commerce needs and how electronic goods from Asia reach the IFA.
1-2014
Discover how Rieck makes drivers happy, what is celebrated at REL and why Rieck is more than just a name.
2-2013
Find out why oral hygiene starts with Rieck, how a giant travels and what drives the IT team forwards.
1-2013
Learn how Rieck is implementing the new standards in air cargo security, why it is worth investing in a green fleet, and why pick-by-voice is no "gimmick".
2-2012
Find out about our work on the Arabian Peninsula and the challenges of the boom in online trading. Also, discover why an apprenticeship at Rieck is anything but dull.
1-2012
Find out, why you can proverbially eat from the floor at Rieck and how the logistics service provider keeps a clear view of storage and transportation of food wrapping and packaging.
2-2011
Learn more about which solutions the Rieck Logistics Group provides for the solar industry. Also, read everything about the expansion in China and the strong site in the Czech Republic.
1-2011
Catch up on the construction of the new logistics site of HOMTRANS in Kavelstorf near Rostock and find out what's important for the Rieck Sea Air Cargo International (RSACI) team at Munich airport.