An A-Z Service
Relocation is sometimes unavoidable. You can, however, avoid the stress that comes with it. As an experienced relocation company in Berlin and Brandenburg, we will ensure that your move is smooth and relaxed. And no matter where you're heading, with us your move will be professionally handled — within Berlin/Brandenburg, Germany, Europe or worldwide.
Our offer

Fast & professional realization

No-obligation consultation and quote

Relocation services for companies & private housholds

Furniture forwarding europe- & worldwide
Expert packaging services
Special packaging for sensitive equipment
Interim storage
Furniture assembly
Provision of packaging material
Furniture and kitchen fitting, packaging service
Furniture storage
Straightforward, direct billing to employers, agencies and authorities
Secure packaging
Provision of relocation containers and packaging materials
Customs clearance and shipping
Transport to the unloading point
Customs formalities
Certified member of the German Association of Movers and Logistics (Bundesverband Möbelspedition (AMÖ) e.V.)
Request your custom quote
Whether you're a private household or a company, and whether you're moving within Germany, Europe or overseas, as a reliable relocation company from Berlin and Brandenburg, we will oversee the entire process. Talk to our experts and let us draw up a custom quote for you.
Your logistics partner for trade fairs & events
Your perfect presentation is important to us – as are smooth logistics processes. That is why our trade fair experts will assist you before your event as well as afterwards – not to mention during the event, of course.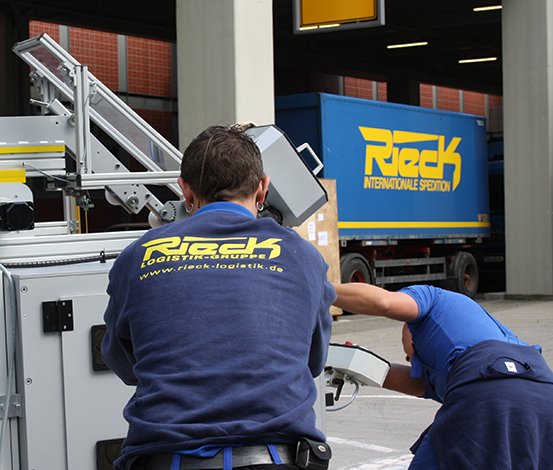 IT for your logistics processes
We use efficient IT technologies to support your company along the entire logistics process chain and offer you tailor-made solutions, which we continually develop.